Companies who use multiple fulfillment channels often find it difficult to integrate their inventory streams.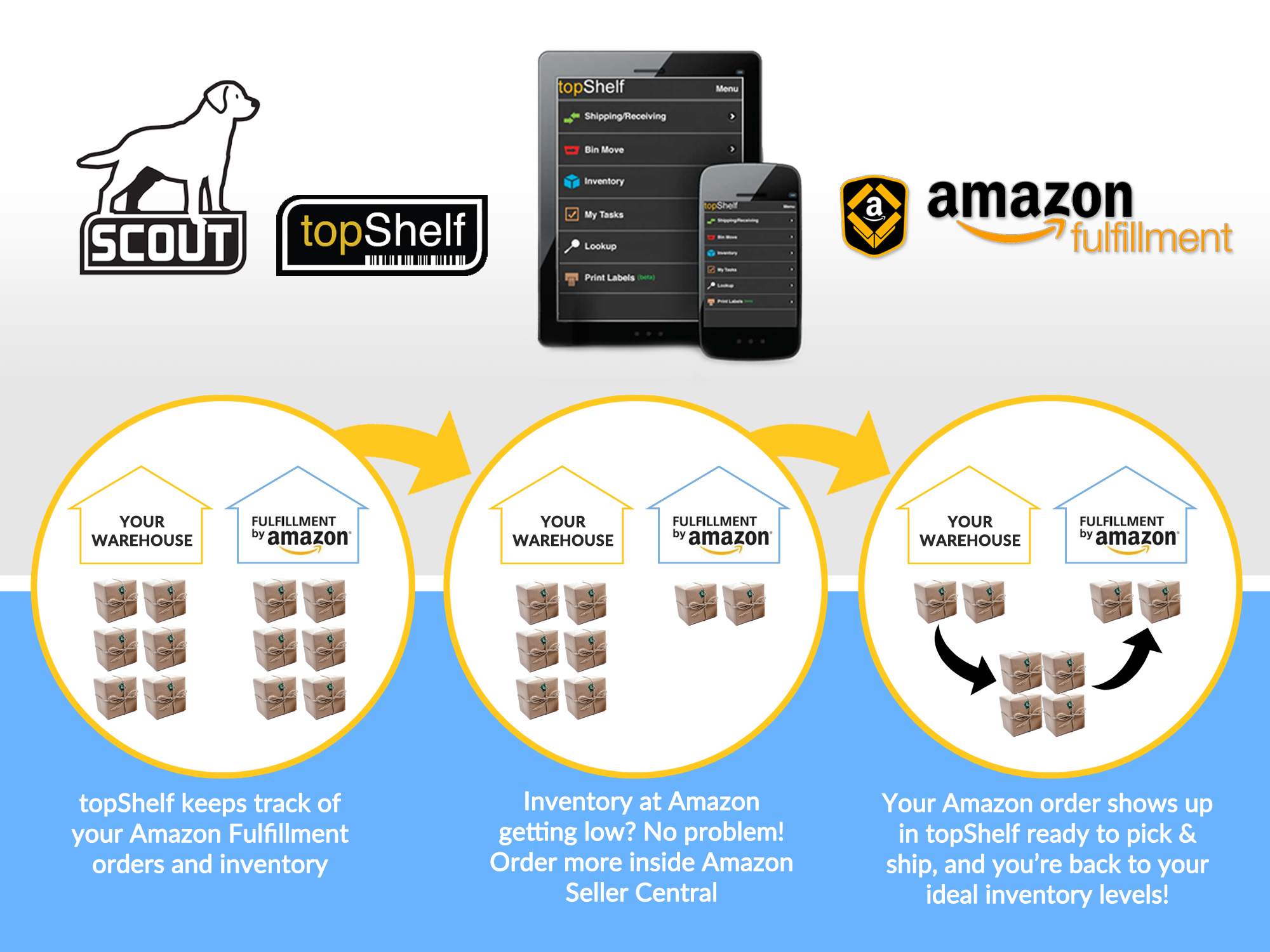 Companies who use multiple fulfillment channels often find
it difficult to integrate their inventory streams. Inventory stored in their
own warehouses is one thing, but inventory stored in different warehouses, such
as Amazon and other third-party vendors, must often be tracked using separate
systems. topShelf inventory management software from Scout Software bridges
this gap to include merchandise stored in Amazon's warehouse in your entire
inventory count, making it easier to see your current inventory and handle
shipping needs. FBA and topShelf – we make shipping easier.
topShelf and FBA Integration: Easy and Streamlined
Now with topShelf and FBA integration, quantities stores in
Amazon's warehouses are now reflected in topShelf's reporting tools. This means
that your reports in topShelf are comprehensive, showing you the total SKU
count for products whether they are stored in Amazon's warehouse or your own.
This is a great time-saver for many businesses, especially
during the busy holiday shopping season. As your orders pick up, it can be hard
to know when to reorder products, especially when they're being shipped from
different locations. Now you can see at a glance what the counts are in your
Amazon warehouse and your other warehouses. You can choose whether to move
products from one warehouse or another or reorder items.
Additionally, as an
optional feature, after the creation of replenishment orders in Amazon's Seller
Central, those orders will be automatically copied into topShelf as an outbound
Shipping Order from your warehouse to the proper Amazon Fulfillment Center or
Centers. This eliminates the need to recreate the orders manually in topShelf.
The replenishment orders simply need to be picked and then marked as shipped in
Seller Central. The Amazon shipping labels are created via the Seller Central
application.
topShelf Helps You
Manage Your Business
topShelf empowers you with timely, accurate information. As
a business owner, it's important to know how quickly you can fulfill orders.
Customers want to know when to expect their orders. And around the holiday
season, that's especially important. People want to be sure their gifts arrive
before Christmas!
topShelf offers many benefits for e-commerce businesses.
Seamlessly integrate accounting, CRM, logistics
software and e-commerce platforms.
Easy, intuitive system that's so simple to use
your entire team can grasp it fast.
Customized forecasting features to help you plan
ahead.
Detailed reporting functions that give you
insights into stock levels, recalls and more.
With accurate and timely information, your business can
thrive and grow. Learn more about topShelf from Scout Software. Visit our online library of informative
videos or contact us today. Call 651-964-3259.