Understanding the difference between a fulfillment center and a warehouse can help you better understand and optimize your business as best as possible.
Fulfillment centers are often synonymous with distribution centers because they work very similarly to each other. When a company chooses to use a fulfillment center, in this situation, all order fulfillment will be done by the fulfillment or distribution center, and sales will go through the company.
Companies that use fulfillment centers are often e-commerce businesses that use them to lower their overhead costs. Warehouses can be expensive to run and, in turn, can take up a lot of your budget. A fulfillment company will allow you to sell items while shipping them for you so that you don't have to worry about that part of the business.
Fulfillment Center vs. Warehouse
A fulfillment center is quite simply a place where your goods can be stored, but more importantly, they will also be shipped from this location. Different fulfillment centers will have different requirements for what you'll need to bring to the table to work with them. Some may require you to have a certain number of orders or a certain amount of inventory.
A warehouse, unlike fulfillment centers, does not need ship orders. Warehouses are quite simply a place where your goods are stored. There doesn't need to be any shipping from that location. Fulfillment centers are often warehouses, but warehouses aren't necessarily fulfillment centers.
Amazon as a Fulfillment Center
You've probably heard of the great Amazon fulfillment center, but you may not have thought about it in this way. While Amazon has developed some of its own products over time, the company was founded around the idea of being a fulfillment center for sellers' products. What happens is that you list your products on Amazon and can have them stored in an Amazon warehouse. When one of your products sells on Amazon, you won't have to worry about shipping or order fulfillment. The Amazon warehouse takes care of it all for the fee that you pay them out of the profit you make when your product sells. While the downside to this is that it will cost you, it's also an advantage because you can focus on other things instead of just shipping.
Amazon's roots go back to being a bookseller and essentially a fulfillment center for publishing companies selling books. That's essentially what they do today except with a more diverse product line and sometimes their own products.
Should You Use a Fulfillment Center
Now that we know what a fulfillment or distribution center is and how it works, let's determine whether your company should be using one. It can be hard to know when it's right for your e-commerce business to start working with fulfillment companies like Amazon to help with the order fulfillment process.
Pros of Using a Fulfillment Center
There are plenty of advantages, but some of them will come at a cost.
Focus on your core capabilities: You might not have the systems, process, or ability to ship out products as orders come in. It can be incredibly time-consuming and, in turn, can be wearing to deal with day in and day out. By focusing more on your core capabilities and the things you're best at, you can promote profitability and efficiency within your company.
Lower your overhead cost: By not needing to pay for a warehouse or warehouse staff, you'll be able to lower your overhead costs significantly. Additionally, you'll be able to lower the number of staff on your payroll, allowing you to lower costs in that area as well. Keep in mind that it might cost more in some cases because of having to pay the fulfillment center.
Lower your shipping cost: Many fulfillment centers, such as Amazon, offer discounted shipping prices because of their ability to mass ship items instead of shipping everything individually. Lowering your shipping cost will significantly help your margins and make up for some of the losses associated with hiring fulfillment services.
Improve your speed and dependability: The speed at which you can ship products, as well as the dependability of order fulfillment, will dramatically impact your company. When customers have a positive experience with your e-commerce business, they are more likely to refer your company and products to other potential customers within their network.
Improve scalability: As your company grows and begins to sell more products, it will only become increasingly more difficult to keep moving orders efficiently. Because packaging, shipping, and ensuring timely orders are all that fulfillment centers do, you can be confident that they'll have your back as your company grows at scale.

Cons of Using a Fulfillment Center
All good things will have their downsides. While there are many pros, there are also plenty of cons to consider.
Loss of control: This one of the largest things to understand before going out and looking for a fulfillment center to use. When you begin outsourcing fulfillment, you will experience a loss of control. Quite simply, you won't be able to control all of your orders, and you have to have full trust in your fulfillment center.
Lack of communication: At times, you might experience a lack of communication from the fulfillment center you're working with. It's a challenge to manage cross-company communication, so work through that with patience and define your communication needs early within the process.
Potentially higher costs of doing business: Many e-commerce businesses have found that partnering with another company for their fulfillment process is more profitable and saves them money. But, in some cases, it can be more expensive. Working with your bookkeeping and accounting team determine how much you can spend to save money and whether or not it's worth it for you to spend more than you otherwise would.
How to Use a Fulfillment Center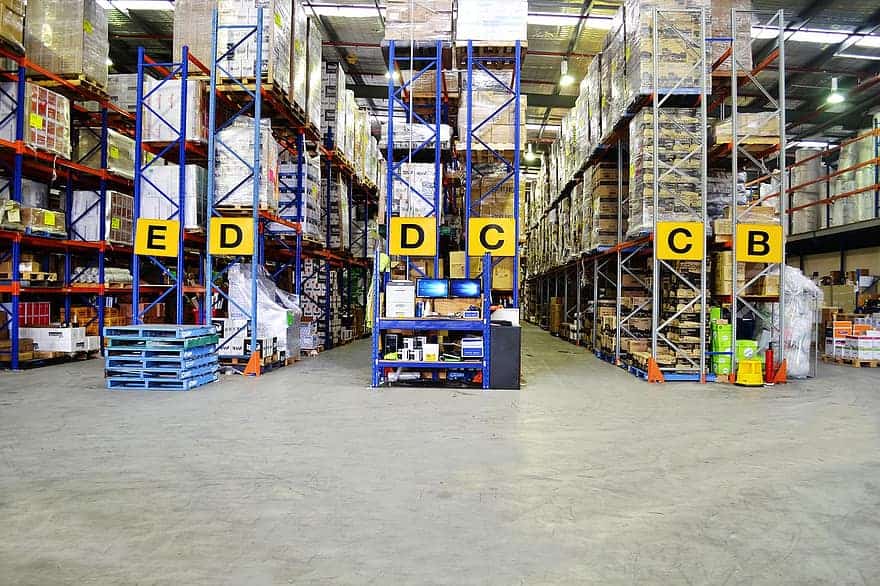 The process of using a fulfillment center is fairly simple. You need to first determine the third party you're going to work with and how they prefer receiving inventory from their partners. Inventory storage will be one of the biggest parts of your partnership.
After you've got that sorted out, you'll have to determine how you're going to send customer orders to the third party for them to ship out. You'll most likely want to use an inventory management solution like topShelf by Scout. By using a software service like this, you'll be able to manage customer orders and help your warehouse and fulfillment partner send out orders accurately.
Lastly, your third party logistics team will be able to scan inventory items in and out of their warehouse so that you know when you need to order more stock. This helps e-commerce companies track market trends and ensure that they always have stock to fill orders with.
Finding a Fulfillment Center
Listing your products on Amazon and using Amazon as a fulfillment center that warehouses your product and sells it isn't a bad idea at all. Still, there are other distribution centers and smaller companies that you can use for fulfillment services. Here are a few different tips for finding fulfillment centers that you can work with.
Define Your Goals in Using a Fulfillment Center
Before you go looking for a fulfillment or distribution center, you must have all of your goals in place. This will allow you to determine what fulfillment center is right for you and your business. Here are some bullet points to consider:
Cut down on shipping costs and shipping times
Improve order accuracy and reduce returns
Decrease customer service response time
Here are some additional longterm goals for using a fulfillment center:
Lessen the strain on internal departments
Expanding fulfillment for different locations to increase the shipping speed of delivery
Expanding product lines to allow for additionally SKU's
After you've defined these goals, you'll be able to look into dig further into other factors affecting how the fulfillment centers can help you.
Evaluate the Fulfillment Centers Expertise Within Your Market
Finding a company that knows your market and your product will help you with quality control and ensure that your inventory is well taken care of while being held and shipped. Many e-commerce fulfillment companies are well equipped to handle different products better than others. Some companies might only provide services for specific products, so be sure to do your research.
Confirm that the Fulfillment Company Offers Good Customer Service
While you're communicating with the company, analyze how long it takes for them to respond to you and their customer service. You can expect that they'll treat your customers similarly to how they treat you throughout the process of setting things up to work with them. Here are three points to think about:
How quickly do you receive responses?
How knowledgable does your representative seem when answering your questions?
Did the company take the time required to understand your business better?
By analyzing each of these areas, you'll better understand how this company will treat you and your customers throughout your business relationship.
Looking to learn more about warehouse and inventory management solutions? Check out our blog. At Scout, we offer cutting-edge inventory management solutions and enjoy helping our customers learn more about warehousing and e-commerce business trends. If you need an inventory management tool, reach out to us today to schedule a free demo of our product topShelf.