10 Best Shoes for Warehouse Pickers
Feb 9, 2020
Warehouse pickers have a very labor-intensive job. They spend hours and sometimes whole shifts on their feet. This can be taxing on someone's body and one of the best ways to prevent damage to your body is a good pair of shoes. Good shoes will help you to feel energized and ensure that after a long day on your feet, you aren't dealing with back pain. If you've been experiencing any type of pain in your legs or back, then you might consider wearing a different pair of shoes to help with that.
The right pair of shoes will do more than just ease the strain on your back, legs, and feet. A good pair of warehouse shoes will also offer protection. A lot of people are counting on their shoes to protect their feet from things dropped on them or from bumping them into shelves as they walk.
Today we're breaking down the 10 best shoes for warehouse pickers.
While curating this list, we looked at shoes that provided the best value and the best quality. Hopefully, by the end of this list, you'll have found the perfect pair of shoes for you. Let's get started!
Timberland PRO Men's Powertrain Sport Alloy-Toe EH Industrial & Construction ShoeTimberland warehouse shoe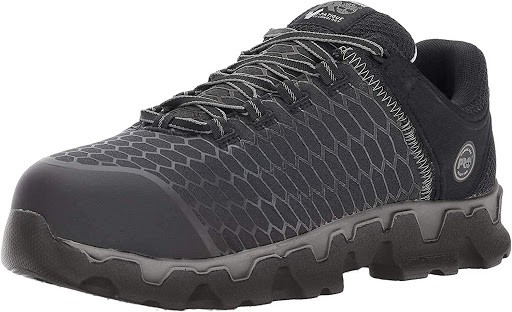 This Timberland shoe is very popular, and you'll find it to be one of the best-reviewed work-shoes on the market. It features a comfortable base while still looking pretty stylish. A good cushion and durable sole hold up over long amounts of time. The only negative to this shoe is the fabric on the top may be subject to more wear and tear than a composite or leather material would be.
Keen Utility Men's Atlanta Cool Steel Toe Work Shoe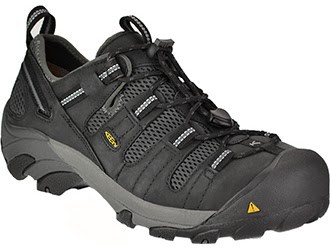 KEEN Utility Warehouse shoeThese Keen shoes are built to be very comfortable. They have an arch that shapes really well to the foot and is designed to help keep your feet, back, and legs more comfortable. There are also a lot of benefits to the well-rounded sole and high-quality stitching throughout. However, you should watch out for a little less ankle support with this shoe.
Skechers for Work Men's Synergy Ekron Alloy Toe Work Shoe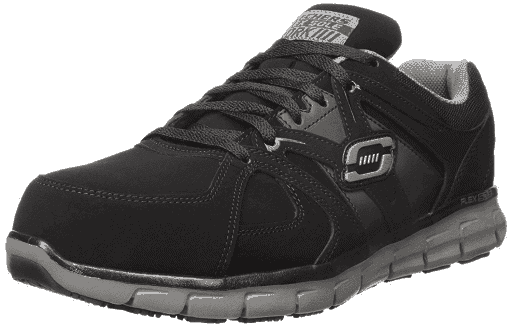 Sketchers work shoes. This shoe looks a lot like regular tennis shoes, but it's actually a great work shoe. The design offers a great cushion to your step and also has an alloy toe to help protect your feet. It is composed of leather with synthetic material overlaying it. This one gets an A+ for design and comfort. The only downside of this shoe is that, like a tennis shoe, the sole may come apart from the rest of the shoe after wearing them for a while.
Caterpillar Men's Second Shift Steel Toe Work Boot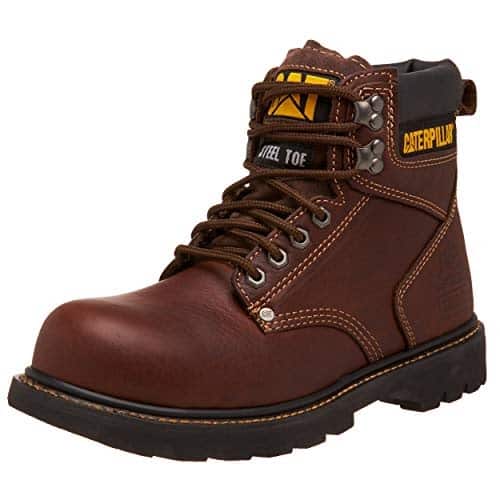 Caterpillar work boot. If you're a person that likes a traditional approach to work boots, then this might be the product for you. The rounded toe and large rubber sole holds up nicely in a warehouse setting. These Caterpillar boots offer a lot of support for your feet and have a steel toe to protect you. Before buying this boot, think through the consequences of having a shoe that is slightly heavier than some of the others but could also hold up longer if you're particularly hard on your shoes.
Irish Setter Men's 6″ 83605 Work Boot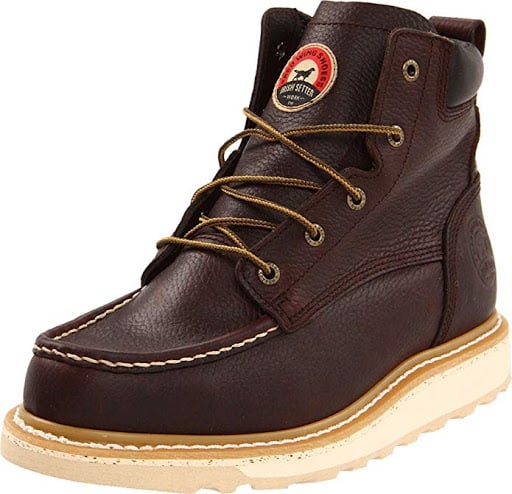 Red Wing Irish Setter Work BootAlthough it may look retro, this boot offers an impressive list of safety features… Irish Setter, made by Red Wing Shoe Company located in Minnesota, is a stand-alone type of workbook. These specific boots boast a heat resistant sole up to 475 degrees Fahrenheit. While you might never come in contact with temperatures like that, these soles will stand the test of time. One thing to note is that this boot does not have a steel toe. But, that can be seen as a positive because if you don't need it, the boot is much lighter than those that do.
KEEN Utility Men's Flint Low Steel Toe Work Shoe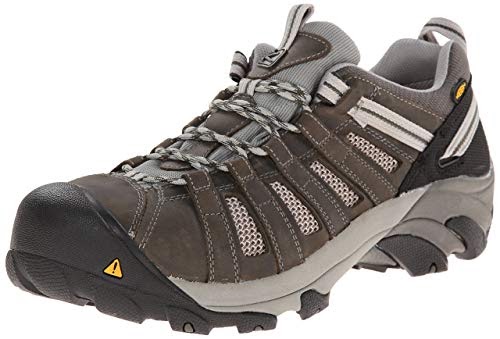 KEEN steel toe work shoe. A steel toe makes this shoe deceivingly heavier than you'd think. The curved arch in the sole helps to keep your foot in a good position, and the rubber treads offer a lot of traction. These shoes also last a good amount of time, so you won't have to worry about a replacement for quite some time. Another positive thing is the odor protection that is offered by KEEN. One thing to consider with this shoe is that you won't get as much ankle support as you would from a boot or something that comes up slightly higher on your foot.
Thorogood Men's American Heritage 6'' Moc Toe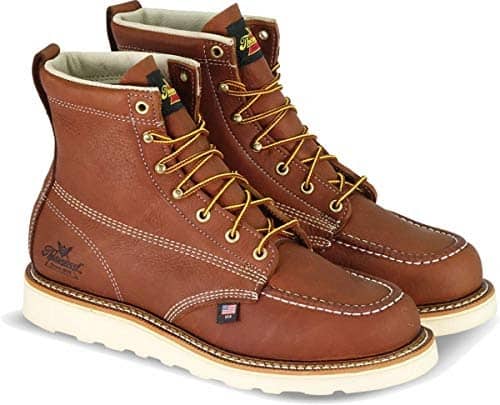 Moc toe work boot. This boot boasts similar features to the Irish Setter. With a thick sole and moc toe, this boot can be a great option for those looking to improve their warehouse footwear. You will notice that the Thorogood boot is a little higher around the top which makes it even better for ankle support. You can expect great durability from this boot. These Thorogood boots are on the more expensive side of what we've included in this list, but the advantage to that is that they are built to last.
Reebok Work Men's Sublite Work RB4443 Industrial and Construction Shoe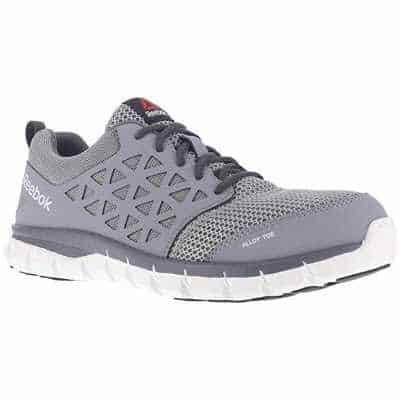 Reebok comfortable work shoe. A lighter and more agile option is this shoe from Reebok. This shoe has many quality reviews, and people say it's one of the best shoes for warehouse workers. You might not expect it but this shoe has a steel toe and meets a lot of the safety standards set by the industry. It's built to be water and slip-resistant and offers an insole that shapes to your feet. One of the cons with this shoe is that it can feel stiff and doesn't offer a lot of cushion from the concrete floors compared to some of the different options.
Dunham Men's Cloud Mid-cut Waterproof Boot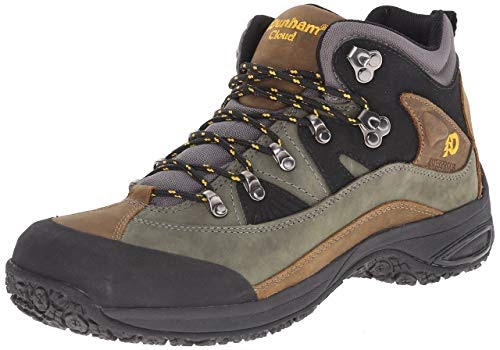 Hiking/work boot for warehouse pickersHiking boots can be some of the most comfortable for walking and working which is why we included this Dunham boot on our list. The rubber sole provides excellent traction, and the leather surface is water repellant. The laces are durable and allow you to tighten them up for great support. One of the best features of this shoe is the insole. Memory foam forms to your foot and disperses pressure areas into different places.
K-Swiss Men's Hypercourt Express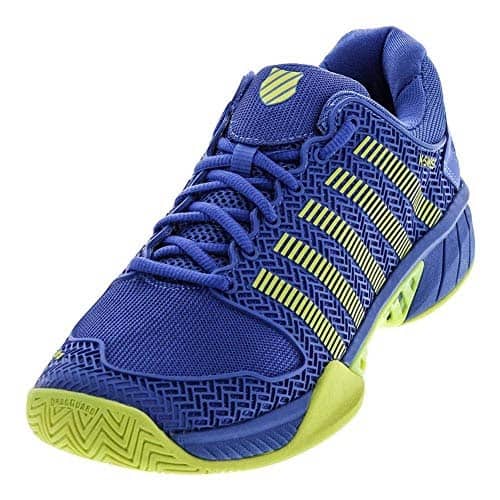 K-swiss ultra-lightweight work shoe. This ultra-light and tough shoe rounds out our list. The K-Swiss shoe provides incredible traction and is known for that. They are durable and offer shock-absorbing features in the midsole. These shoes offer more comfort than some of the other options that we've seen but lack some of the safety features such as a steel toe. The downside to this shoe is that they are made for more narrow feet. If you have wide feet, then you may want to consider a different show. But what they lack in that area they make up for in the ways that they provide comfort from the concrete for your feet.

Choosing the Right Shoe
There's a lot that goes into deciding which shoe is right for you. You could consider basing your choice off of reviews, style, or what other co-workers use. But, if you're going to find the right product that ultimately satisfies you, then we have a few pointers for you.
Protection and Comfort
A good shoe is going to last. It needs to. You don't have time to be replacing your shoes all the time. And of course, you don't have money to be doing that either. Check reviews and try to find whether or not people have been wearing the shoes for more than a few months. Comfort is the other part of this one. Sometimes shoes start comfortable, and over time will get worse. Make sure that people are really happy with how the shoe feels even after a few years.
Affordability and Quality
Having an affordable pair of shoes is helpful in the short term, especially if you can get them for a good deal. But, don't skimp out on quality. The laces, soles, and sides are all places that will quickly wear if you don't buy a high-quality product. Look for sales, coupons, or other discounts that can help you obtain an excellent product while also staying within your budget.
Sizing and Fit
If you're buying your shoes online, then just be prepared for the fit not to be perfect right away. In other words, it may take ordering a couple of sizes and a few returns to find the right fit for you. Getting a product that doesn't fit your foot will lead to the shoe wearing out faster and most likely causing you more problems in the long run. Embrace waiting if you have to and make sure you get the right size and fit for your foot!
Sneakers, Tennis Shoes, Boots, and Work Shoes
There are quite a few different types of shoes out there, and you might have to decide what works right for you. Some companies will require you to wear a specific kind, but if they don't, then just pick what you feel is most comfortable for your feet. One thing that will help you is having a shoe or boot with a thick sole. The thicker the sole is, the more comfortable the shoe will be.
Steel Toe
Steel toe boots or work shoes may also be a really smart option for you. Some employers require that you have steel toe boots, and others might not have an opinion. So, before you purchase a pair of steel toe boots, make sure you know if your employer has any requirements. If they don't, then you might consider a steel toe if you like the way it feels on your foot or if you're concerned about dropping something on your feet and would like the extra protection. It is good to note that steel toes usually cause the footwear to weigh more, a significant amount more. You might consider avoiding them for that reason.
Shock-Absorbing
Concrete floors in your warehouse can really take a toll on your heels and knees. You might look into either an insole for your shoe or a shoe that specifically offers shock-absorbing technology. You can also look for a thicker sole to break some of the shock experienced on concrete floors. You should also consider this if you have any history with back, knee, or hip pain.
The Right Sole
Having the right sole will help your foot feel better over any amount of time. You won't have to worry quite as much about insoles if the sole is stiff and high quality. This is also going to affect the overall feel of the shoe that you're wearing. You want the shoe to feel comfortable but yet mobile and to support you well while providing great traction in the front of the shoe. Take a few laps through the isles of the shoe store to make sure you like how the shoe feels on your feet. Hopefully, this guide has helped you or will help you the next time you're looking for the perfect warehouse shoe!
Once you've got the shoes, the only left is to continue improving on your warehouse efficiencies and effectiveness, and we have the tools to help. So reach out to Scout, today!