Amazon is by far the biggest online retailer and is by many estimates the largest company in the entire world. It's fair to say then that Amazon and its founder Jeff Bezos are successful, but why?
1. Huge Number of SKU's
Firstly, Amazon offers a huge number of SKU's, unique product identification numbers, meaning that they have a much broader selection of products than almost anybody else. This selection makes shopping easier for customers, they can get nearly everything from one store instead of having to go between many, and that makes it a simple choice.
By having such a variety of products, they have been able to draw in customers from a wide range of niches and then keep them because of the other items that they sell.
This selection also benefits the company when it comes to customer lifetime value, by offering such a variety of products a customer is more likely to continue to buy in the future. This convenience is appealing, and it draws in a vast crowd of consumers who are merely looking for the easiest way to get their products.
2. Free Shipping and Returns
Although it might seem hard to imagine in this day and age, there was a time when shipping was expensive and returns cost money. Amazon was a pioneer in this regard, they popularized free shipping and returns, reducing the barrier to entry for consumers who were wary about shopping online.
Remember, the internet is still a relatively new phenomenon and even as late as 2010 many people were scared of shopping online. People worried about shipping and whether they would like products when they arrived, but Amazon solved this by offering free shipping and returns in the vast majority of cases.
This policy set them apart from the competition and made it far more likely that consumers would shop with them instead of the other stores that started appearing on the net.

3. Overnight Delivery
Similarly, they were one of the first stores online to offer the option of having overnight delivery at a reasonable price. This tactic tackled the problem of online shopping which is that you must, of course, wait for the product to arrive, and that can be infuriating for the consumer.
By offering overnight shipping at a reasonable price, they could acquire customers who would otherwise go to a physical retail store because they were unwilling to wait for the usual 3-days.
4. Incredible Customer Service
Any eCommerce business owner knows the customer service is the most crucial factor in your success. Without incredibly customer service you will hemorrhage customers, and those people will go on and ruin your brand's reputation.
While before the internet a single person might only tell a few of their friends about a bad shopping experience, with the advent of social media they can quickly tell thousands – even for small businesses. This fact makes online stores especially susceptible to reputation damage from scorned customers, making fantastic customer service vital to your continued success.
Amazon has succeeded in this realm, offering fast and informative customer service to its customers at any time of day across the entire globe.
5. Talented Management
Of course, Jeff Bezos didn't stumble into becoming the CEO of Amazon, he previously worked for an investment company and has always been incredibly talented. He has also hired particularly well, and that's created an outstandingly gifted team of senior managers who have steered the direction of the company from the top.
Without proper management, it's nearly impossible for a company to achieve anything, a group rots from the head, and that's why senior management is vital to Amazon's success.

Throughout the life of Amazon, they have guided the company through tough financial times, volatile stock prices and reputation damage, coming out the other side stronger than ever.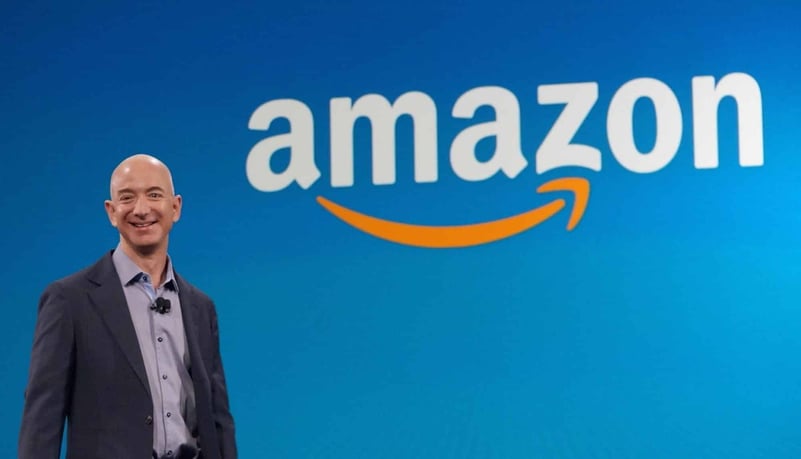 6. Culture of Innovation
Finally, Bezos himself would argue that the main reason why Amazon is so successful is that they have a culture of innovation that allows employees to create without fear of failure. In fact, Bezos says that failure should be embraced because it's the only way to ensure that you are continually trying new things and striving for success.
Many of their competitors are the opposite, they are scared of trying new tactics that could waste money, and the idea of trying a novel approach out of their core business idea would be crazy. For Amazon, this craziness is what has allowed them to soar far above any company in history, making them the most successful business of all time.
7. Why is Amazon so successful? – A Personal Take
I think that Amazon is crazy successful because of the emotional resonance it's been able to achieve in the hearts and minds of people… yes, partly because of Prime shipping, and the quickness and easiness to purchase something.
People have grown attached!
It's hard to beat that once they've gotten used to buying from a certain place. That emotional attachment means, they'll check Amazon over Walmart.com or whoever else now has all the same exact features (almost) as Amazon.
It's also hard to beat the fact that so many people have reviewed the products, and their impartiality to having a lot of different people selling on Amazon – vs. Walmart being the go-between.
Why is Amazon so successful? I put forward the theory that the answer is in your own heart.